Shop
Discover where to buy apparel and gifts, connect with licensed vendors and more!
---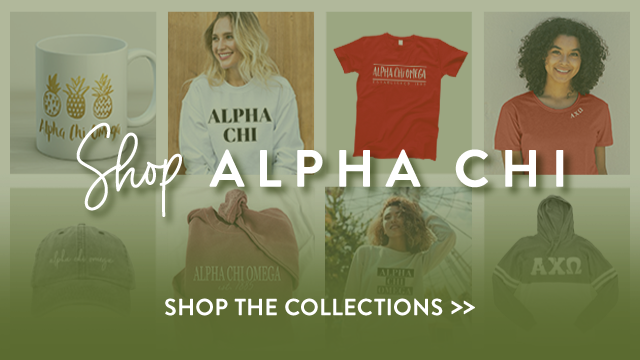 ShopAlphaChi
ShopAlphaChi.com is an easy-to-use site to buy merchandise from many of Alpha Chi Omega's licensed vendors. Search for great gift ideas, buy the newest products and get inspired by the custom designs in our Gallery.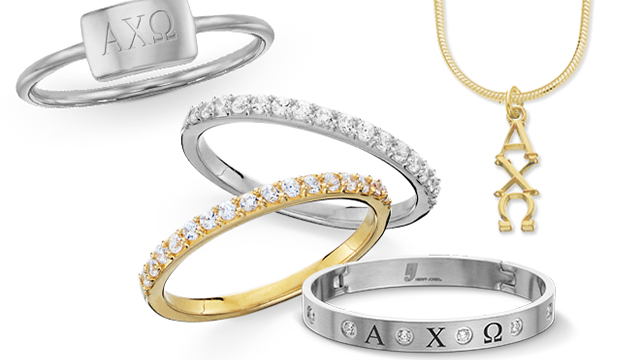 Herff Jones
As Alpha Chi Omega's official jeweler, Herff Jones crafts our beautiful member badges, pins and chapter guards. They also offer accessories perfect for any occasion, such as rings, lavalieres, charms, bracelets, graduation cords and stoles in celebration of a lifetime of membership.
Find an Approved Vendor
When you don't know where to start, but you want the reassurance that you're shopping with an approved vendor, this is the place to go! GreekLicensing.com offers a real-time list of websites for vendors licensed to work with Alpha Chi Omega and other fraternal groups. Search more than 400 vendors offering everything from T-shirts, drinkware and stationery to chapter composites and website design.
INTRODUCING OUR NEWEST VENDORS
We're thrilled to partner with these newly licensed companies to promote the Alpha Chi Omega brand! Please check out their websites or stop by their in-person locations: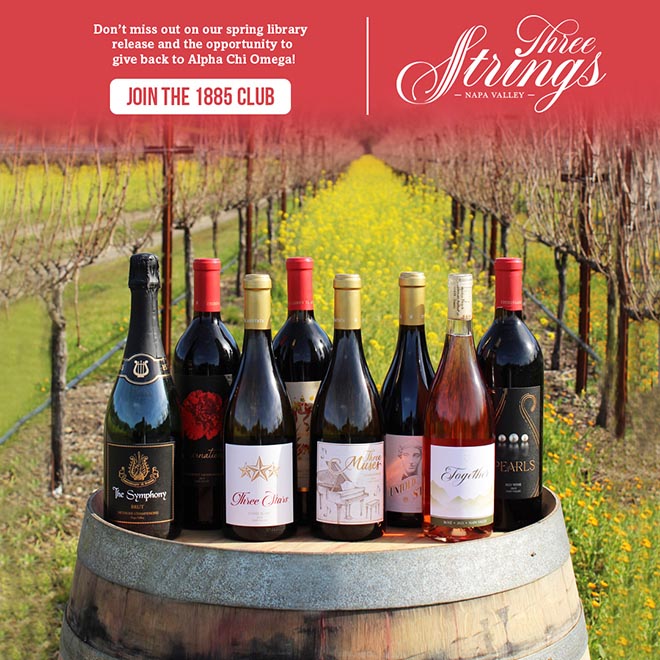 Three Strings Napa Valley
Created exclusively for alumnae, Three Strings Napa Valley is Alpha Chi Omega's line of handcrafted, limited-production wines, perfect for toasting to lifelong bonds of sisterhood.
Alumnae who join the 1885 Club receive new releases each spring and fall. With 20% of each sale benefiting Alpha Chi Omega Fraternity, your 1885 Club membership offers a unique way to blend celebrating Alpha Chi Omega and supporting the greatest needs of our sisterhood.
---
Licensed Vendors
To protect Alpha Chi Omega's intellectual property, any individual or company interested in creating, distributing or advertising a product or service with our trademarks must be licensed by Alpha Chi Omega. This helps ensure the high standard of quality and service that our members expect.
We work with Affinity Consultants to manage the licensing process from start to finish.
Visit GreekLicensing.com
to get started and review the FAQ.
Members interested in using our trademarks for educational purposes may access our brand resources via My Alpha Chi > General Resources > Marketing Tools. If you are a member selling stickers, T-shirts and other custom merchandise, please refer to the Become a Licensed Vendor section. Licensed vendors have direct access to our brand guidelines and trademarks via the vendor gateway. Additional questions should be directed to marketing@alphachiomega.org.
Alpha Chi Omega works diligently to protect the use of its trademarks on file with the United States Patent and Trademark Office. Beyond the Alpha Chi Omega name, our trademarks include the Alpha Chi Omega name in Greek letters (AXΩ), the Alpha Chi Omega coat of arms, Alpha Chi Omega badge, lyre symbol and Real. Strong. Women. tagline.

Additionally, nicknames and symbols commonly used by Alpha Chi Omega, such as Alpha Chi, A Chi O, AXO, Together let us seek the heights, are part of our licensing and monitoring.