Mental Health Education
Alpha Chi Omega recognizes the need for educational experiences that engage our members in the critical topic of mental health. A recent survey on behalf of the American College Health Association indicated that in the past year, three out of five students experienced overwhelming anxiety and one out of 20 will experience a serious mental illness in their lifetime.

As members continue to experience mental health challenges like unhealthy stress, anxiety and depression, Alpha Chi Omega continues to be a leading organization providing its members developmental programs to facilitate meaningful conversations around mental health.

Explore this page for mental health programming and resources Alpha Chi Omega offers its members.
DIMENSIONS OF WELLNESS
Taking care of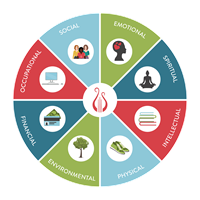 our mental health involves caring for our holistic well-being. Each part of our health requires time and attention to allow us to live life to the fullest. Our wellness is dependent on the daily actions, behaviors and routines we practice to create a positive mindset. By understanding the multifaceted parts of our well-being, we can start to improve our overall health and mental fitness. Alpha Chi Omega encourages members to assess their mental health and well-being through the Eight Dimensions of Wellness: emotional, environmental, financial, intellectual, occupational, physical, social and spiritual. Use the following resources to guide you in the process:
Individual Wellness Activity: allows you to self-examine your personal relationship with your health. Using the Wellness Wheel Inventory, you will assess your everyday health behaviors and levels of satisfaction within each dimension of wellness. Reflection questions will guide you in developing a new perspective on your wellness and distinguish areas of opportunity to continue to grow in your mental health journey.
Mental Health Awareness Month Collegiate Programming Guide: outlines recommendations for programming and educational activities to foster collegiate members' understanding and knowledge of mental well-being during Mental Health Awareness Month in May. Each week focuses on different dimensions of wellness and provides resources to assist in planning and outreach efforts.

Consider these additional resources to assist you in cultivating each dimension of your personal wellness to enhance your mental health:
---
MENTAL HEALTH CRISIS RESPONSE
Should you or a friend need to talk to someone, please text "start" to 741-741 or call 800-273-talk (8255) to speak with someone from the National Suicide Prevention Lifeline for emotional support.

If you or a friend need resources to help a young person of color, text "STEVE" to 741-741 to access a culturally trained counselor or visit The Steve Fund.

If you or a friend need resources to help a person who identifies as LGBTQ, text "START" to 678-678 to access counselors trained to support LGBTQ communities or visit The Trevor Project.
---
COVID-19 AND MENTAL WELLNESS
The COVID-19 pandemic brought to the forefront the reality of mental health and the importance of maintaining a positive relationship with our mental well-being. A 2020 National Alliance on Mental Health survey found that one in five U.S. adults reported that COVID-19 had a significant impact on their mental health, with 55% of those experiencing serious mental illness. The impact of these mental health crises and its effects continue to impact adults of all ages. As we continue to evolve and live in a world with ongoing public health challenges, Alpha Chi Omega collegiate and alumnae members remain resilient and committed to navigating their mental health. Consider these resources to help understand current trends in mental health and how to best support our sisters' emotional development today and in the future:

THE JED FOUNDATION
A COMMITMENT TO COLLEGIATE HEALTH
Alpha Chi Omega provides our collegiate members with information about mental health and wellness through its partnership with The Jed Foundation, a leading nonprofit organization whose mission is to promote emotional health among college and university students.
In September 2014, Alpha Chi Omega became the first National Panhellenic Conference organization to affiliate with The Jed Foundation, joining men's fraternities Sigma Chi and Sigma Alpha Epsilon in reaching college students on this important topic. Read the partnership announcement.
AVAILABLE RESOURCES

Active Minds
Through our Harm Reduction Alliance partnership with Zeta Tau Alpha, Pi Kappa Phi and Sigma Nu, Alpha Chi Omega collaborates with Active Minds to support mental health education.
This collaboration introduces Active Minds' everyday guide for everyday challenges: Validate, Appreciate, Refer (V-A-R). V-A-R is an easy way to show up for a friend, helping them cope when they may be having more than a bad day. Members can access the full-length video and conversation starter in the VP Risk Management page of the Resource Center. Use the video and V-A-R conversation starter to learn how to listen in a way that lets someone know they're being heard and that they are not alone. Remember:
Validate their feelings. Let them know what they're feeling is okay and that you believe them.
Appreciate their courage. Speaking up can be a challenging step. Show you are there to support them by saying, "You are not alone" or "I'm here for you."
Refer them to skills and support. Let them know help is available. You can do this by sharing, "Could we schedule a video chat and walk so we can see each other while we get some fresh air?" Or "I think it might be helpful to talk to someone. I can stay on the phone with you while you text/call a hot
NATIONAL RESOURCES
Want to know more about national resources or how to help a friend or sister in need? The following is a list of organizations that can help with specific types of mental health disorders or challenges. Please remember that these resources do not supplement referring a friend to a mental health professional.