Alumnae Book Club
Alpha Chi Omega hosts an online book club just for alumnae! Each month, you will have the opportunity to make connections with alumnae all over the country about the books we're reading through virtual discussion in our Facebook group. If you have questions about the book club, please contact October Davis, assistant director of volunteer management. We look forward to reading alongside you!
Join our Alumnae Book Club Facebook Group
---
We will read a new book and have a virtual discussion via the Facebook group each month!
Book of the month

RED AT THE BONE BY JACQUELINE WOODSON
On the evening of Melody's coming-of-age ceremony in 2001, in her grandparent's Brooklyn brownstone, surrounded by the sounds of Prince, she wears a special custom-made dress. That very same dress was sewn sixteen years earlier for Melody's mother for a celebration that never took place.
Taking a trip through Melody's family history and how they arrived at this moment, Red at the Bone considers not just their ambitions and successes but also the challenges that arise when a family strives to overcome expectations and societal norms. As we pass through the past and present, Woodson explores how so many young people must make life-altering decisions about their lives before they even have a chance to figure out who they are.
---
COMING UP… October 2022
Mexican gothic by silvia moreno-garcia

Noemí Taboada heads to High Place, a distant house in the Mexican countryside, to help her newlywed cousin after receiving a frantic letter. Noemí is a glamorous debutante who spends more time dressed up at cocktail parties than amateur sleuthing, but she is tough, smart and afraid of nothing, including her cousin's new husband, his father who seems fascinated by Noemí and the house itself that brings about visions of doom. The walls of High Place are full of secrets, hiding dark knowledge of the family's past.
As Noemí digs deeper into the family's former mining empire, she unearths stories that are both violent and maddening. Will Noemí be able to help her cousin – or ever leave High Place?
Content warning: sexual assault and attempted rape
---
November 2022
Maybe you should talk to someone by lori gottlieb
Lori Gottlieb, bestselling author, psychotherapist and national advice columnist, takes us behind the scenes in a therapist's world. One day, Lori is working with patients in her practice, and the next, she is reeling from a crisis that causes her world to come crashing down. As she finds herself meeting with Wendall, a quirky but seasoned therapist, she realizes he is much more than a balding head and cardigan sweater.
As Lori continues working with her patients, she learns that their questions aren't much different than the ones that she asks of Wendall each week. Lori invites us into her world as both a clinician and patient as she examines the truths and fictions that we tell ourselves. Maybe You Should Talk to Someone not only features revolutionary candor and humor but is also a revealing memoir about what it truly means to be human.
December 2022
THE FOUR WINDS BY KRISTIN HANNAH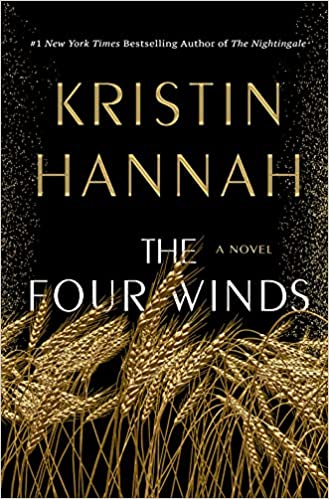 The Four Winds takes us to Texas in 1934 as a drought has broken the Great Plains and left millions out of work. The Dust Bowl era has arrived with a vengeance. Crops are failing and dust is threatening to bury everything as farmers fight to keep their livelihoods.
Elsa Marinelli, like so many of her neighbors, is plagued with the choice to either fight for the land she loves or make the dangerous trip west to California. Elsa's story captures her courage and sacrifice, as well as love and hope, set against the backdrop of one of America's most defining eras – the Great Depression.
Suggest Books for our List
---
Is there a book that you would love to read alongside sisters? Please submit your recommendations for our upcoming book lists!
Past 2022 books
August
The Riva siblings' end-of-summer party is the most desired place to be in Malibu. It's August 1983, and all eyes are on the four siblings, thanks to their popularity and famous singer parent, Mick Riva. Nina, whose husband just very publicly left her, and Hud are not looking forward to this year's party while Jay and Kit, with a few of their own secrets, are counting down the minutes until nightfall. By the end of the night, the party is out of control and the Riva mansion is in flames. Taylor Jenkins Reid finds the perfect way to weave secrets and scandal into a storyline that connects you to each character. Malibu Rising is a story about how a family must choose between the secrets they keep and what must be left behind.
---
July
In People We Meet on Vacation, Alex and Poppy, two college best friends with nothing in common, vacation together each summer. They spend the rest of their year apart; she's in New York City and he's in their small hometown. Their vacations over the last 10 years have been perfect…until they weren't. After two years of not speaking, Poppy knows this last vacation is her only chance to fix things with Alex. Seems easy enough, right?
---
JUne
In this novel by Matt Haig, the author of our August 2021 pick, The Midnight Library, we meet Tom Hazard, who has recently moved back to London to become a high school history teacher. Tom has a secret…he may look like a normal 41-year-old man, but he has been alive for centuries. Tom has traveled throughout time for all of his life, but he may have just met the woman who can save him. Unfortunately, the Albatross Society, which protects people like Tom, only has one rule: never fall in love. Tom must decide if he will remain stuck in the past or finally begin living in the present.
---
May
Michelle Zauner's memoir about growing up Korean American, losing her mother and discovering her own identity is a powerfully poignant recollection about family, food, grief and endurance. She tells stories of growing up in Oregon as one of the only Asian American kids at her school and months spent cooking in her grandmother's Seoul kitchen. Michelle moves away to attend college, falls in love and becomes an indie rock musician, feeling more and more disconnected from her heritage until her mother's terminal cancer diagnosis. Michelle's voice comes alive on the page as she reckons with her identity, the power of good food and the gifts that her mother gave her.
---
APRIL
Owen Michaels disappears and leaves his wife, Hannah, with a duffel bag full of cash and a note that says: protect her. Hannah knows that he is talking about his 16-year-old daughter, Bailey, who wants nothing to do with her new stepmom. As new discoveries unfold, they realize Owen may not have been who he said he was and Bailey might hold the key to discovering his true identity and the details of his disappearance. Together, Hannah and Bailey set out to discover the truth and realize that their lives will never be the same again.
---
MARCH
Somebody's Daughter is the powerful story of a childhood defined by the absence of an incarcerated father. Ashley C. Ford longed for the encouragement and love from her father and struggled with a difficult relationship with her mother. In her search for unconditional love, Ashley began dating a boy who assaulted her. Follow Ashley's journey through the push and pull of the circumstances she was born into, the person she is and the familial love that often sits between the two.
---
FEBRUARY
As Alpha Chi Omega celebrated Healthy Relationships Week during the month of February, we read The One Hundred Years of Lenni and Margot. Lenni is just 17 years old and a patient living in the terminal ward down the hall from 83-year-old Margot. Between their 100 lived years, the two develop an instant friendship full of adventures in their final days. Lenni and Margot show us the gift of life and the importance of friendship just when we need it the most.
---
JANUARY
For our first read of 2022, we began with a story about a solitary green notebook, which tied together the lives of six strangers and lead to beautiful friendships and more. As they write the truths about the deepest parts of themselves in the book, they realize that it wasn't as scary as they thought. The Authenticity Project is about learning that being your true self is the brave road that leads to happiness.