National Hazing Prevention Week
During National Hazing Prevention Week (NHPW), we encourage our sisters to consider ways to build a safe, healthy experience for all members of Alpha Chi Omega in a hazing-free environment. Together we can empower one another to eliminate hazing from our organization and promote healthy bonding and connection in our sisterhood. This week serves as a reminder to live out our values and be an upstander not just for one week, but every day of the year. Alpha Chi Omega headquarters is proud to continue our commitment to eliminating hazing from the Real. Strong. Women.® Experience.
EMPOWERED TO PREVENT HAZING
This year's theme for National Hazing Prevention Week is "empowered to prevent hazing," focused on educating, advocating, promoting and fundraising for hazing awareness across campuses and in our communities. This theme also recognizes 15 years of the Hazing Prevention Network's dedication to ending hazing worldwide. Together, we can empower each other to learn about the early warning signs of hazing, the dangers of its impact, ways to intervene when it occurs and steps to take to create belonging without hazing being part of the equation.
Consider how you can empower others to prevent hazing! Whether you host a tabling event with your chapter, make a chapter banner, lead a discussion on hazing prevention with other fraternities, sororities or student organizations on campus or in your community or plan a program — you can make a difference and put an end to hazing.
Take part in Alpha Chi Omega's NHPW Challenge! This year, we encourage our chapters to participate by completing the "Speak Up for a Sister" hazing prevention training. This interactive, self-guided module is designed to educate members about the problem of hazing, its negative impact on others and ways to prevent it from occurring within our sisterhood. The chapter with the highest percentage of training completion in the month of September will win a sisterhood event prize pack to celebrate healthy belonging!
share how you prevent hazing
Alpha Chi Omega has created printable resources, social media graphics and branded assets, available in our NHPW Google Drive, to help empower yourself and others to raise awareness about hazing. Print and distribute these materials as flyers in your chapter facility, on campus or at tabling events.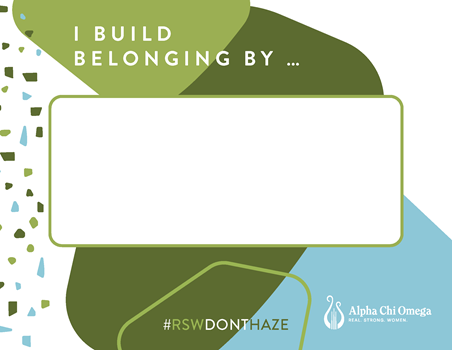 National Hazing Prevention Pledge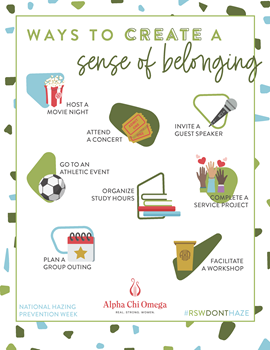 Ways to Create a Sense of Belonging Poster

Real Stong Women Don't Haze Logo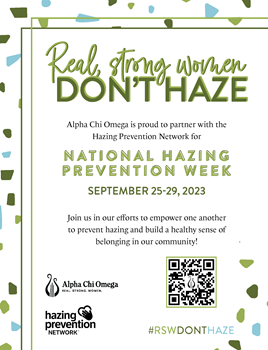 Real Strong Women Don't Haze Poster 2023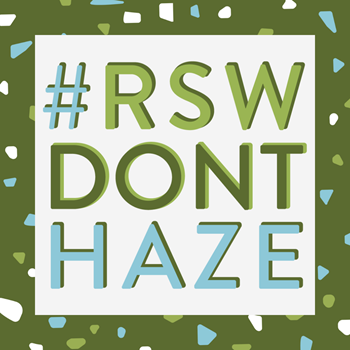 Real Strong Women Don't Haze Instagram Square
ENGAGE WITH US ON SOCIAL MEDIA
---
Use your voice and network to spread the word about hazing prevention all week long! Use the hashtag #RSWDontHaze when posting online and tag Alpha Chi Omega headquarters (@AlphaChiOmegaHQ). Don't forget to submit unedited photos and videos from hazing prevention events, programs and activities throughout the week for the opportunity to be featured on social media!
LEARN,

EDUCATE

AND EMPOWER OTHERS
National Hazing Prevention Week
September 25-29
Alpha Chi Omega recognizes National Hazing Prevention Week (NHPW), September 25-29, 2023, which asks campuses, schools, organizations and individuals to come together and talk about hazing in their communities, raise awareness about the problem of hazing, educate others and promote the prevention of hazing.
Real, Strong Women Don't Haze

Webinar
Be part of the conversation: Join us for a webinar led by Alpha Chi Omega headquarters staff about ways to prevent hazing before it occurs. During this webinar, we will discuss the power dynamics involved in sorority-hazing culture, understand the hazing tolerance results of the sisterhood survey and explore strategies for empowering our members to take action against hazing. Register now to learn how you can make your chapter and community a safer and healthier one! 
Wednesday, September 27 at 8 p.m. EDT / 7 p.m. CDT / 6 p.m. MDT / 5 p.m. PDT
---
EDUCATE YOURSELF AND OTHERS
Download our new Program with Purpose, "Empowered Women Prevent Hazing", from the Alpha Chi Omega Resource Center to facilitate a conversation on ways to develop healthy belonging in Alpha Chi Omega and prevent hazing as real, strong women.
If you have any questions about National Hazing Prevention Week, please contact Rachel Haley, assistant director of harm reduction.
MEMBERS CAN ACCESS a full list of Alpha Chi Omega RESOURCES IN THE RESOURCE CENTER
HAZING PREVENTION

RESOURCE GUIDE
The Hazing Prevention Resource Guide provides education, information and programming to support chapters in making hazing prevention a priority. The guide focuses on the issue of hazing, warning signs of hazing and recommendations for creating healthy and positive membership experiences.
Facilitate a discussion with your chapter using the educational posters and conversation starters for hazing prevention developed by the Harm Reduction Alliance supported by Alpha Chi Omega, Zeta Tau Alpha, Pi Kappa Phi and Sigma Nu. This year's poster highlights the importance of bystander intervention to prevent hazing from happening.  
Our partners at the Hazing Prevention Network are offering several hazing prevention webinar opportunities during the month of September. Learn more from hazing researchers and prevention experts about the impact of hazing and effective approaches to combat hazing. Register to attend a webinar individually or as a chapter!
Make a pledge to prevent hazing, stop hazing when you see it happening, report it when you know it has transpired and help empower others to do the same.
IF YOU SEE SOMETHING, SAY SOMETHING.
IF YOU HAVE

WITNESSED

, EXPERIENCED OR HAVE CONCERNS ABOUT HAZING ACTIVITY

THAT MAY BE

OCCURRING

, WE ENCOURAGE YOU

TO REPORT WHAT YOU HAVE NOTICED

.

YOU CAN

CONTACT

YOUR CAMPUS

STUDENT LIFE OFFICE

/CAMPUS SECURITY/FRATERNITY AND SORORITY LIFE STAFF

,

ANONYMOUSLY

CALL THE

ANTI-HAZING HOTLINE

OR

EMAIL

ALPHA

CHI

OMEGA HEADQUARTERS

TO

REPORT SUSPECTED HAZING ACTIVITY

. CALL

911

IF THERE IS AN IMMEDIATE THREAT TO

SOMEONE'S

SAFETY

.