Hazing Prevention
Hazing of any nature is a matter that Alpha Chi Omega takes seriously. Because of its long-lasting impact on those who may experience hazing, Alpha Chi Omega works to educate members throughout the year on what hazing is and how to prevent it.
alpha chi omega hazing policy
Alpha Chi Omega does not condone unkind, undignified or humiliating activities. No chapter, new member, student, alumna or volunteer shall engage in or permit hazing activities. Hazing is any reckless or intentional act that produces physical, mental, or emotional pain, discomfort, humiliation, embarrassment, or ridicule, regardless of a person's willingness to participate, that is required or expected of a member and that is not related to the Fraternity's mission. This includes any activity, whether it is presented as optional or required, that places a member in a position of servitude as a condition of membership.
Retaliation against any person who reports, is a witness to, or is involved with or cooperates in the investigation and adjudication of hazing is strictly prohibited.
WHAT DOES THIS MEAN?
Alpha Chi Omega interprets our hazing policy as any action or situation, with or without consent of the participants, which recklessly, intentionally or unintentionally endangers the mental, physical or academic health or safety of a member.
HAZING PREVENTION RESOURCES
Alpha Chi Omega is committed to ending hazing in all its forms. Explore the resources below to learn more about year-round hazing prevention and education opportunities.
speak up for a sister training and discussion guide
The Speak Up for a Sister hazing prevention training helps members learn more about how to recognize, prevent and report hazing behavior while committing to creating a healthy, safe member experience. This interactive self-guided module is designed for all collegiate members to complete.
Use the Speak Up for a Sister discussion guide to reflect individually or discuss with members of your chapter how to prevent hazing and build a hazing-free sisterhood.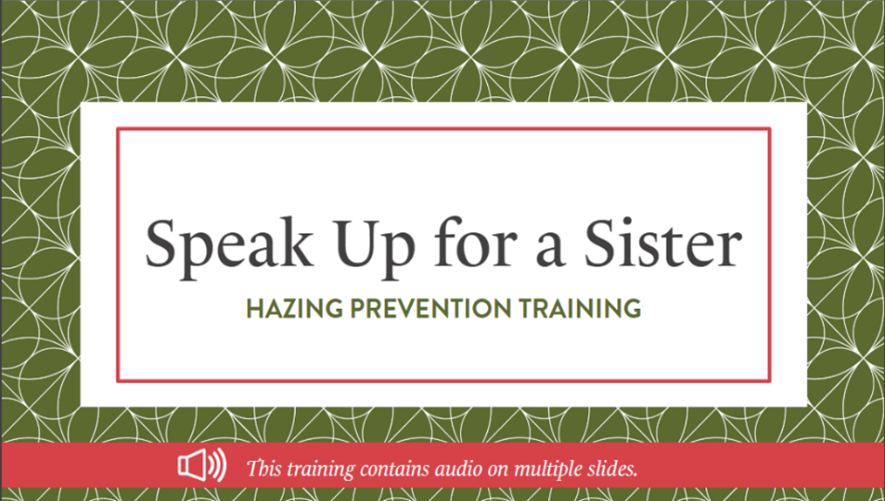 Speak Up for a Sister Training >
Speak Up for a Sister Discussion Guide >
Members can Access these Alpha Chi Omega hazing prevention resources in the resource center:
"Challenging Bystander Behavior" Program with Purpose
New Member Education Red Flags
The Bystander Effect
---
NATIONAL HAZING PREVENTION RESOURCES
Educate your chapter and community on the facts about hazing, the hazing continuum and hazing's negative consequences on well-being with information from StopHazing.org and HazingPrevention.org.
REPORT HAZING
IF YOU SEE SOMETHING, SAY SOMETHING
We encourage our members to act when there are concerns about experiences created in our chapter or campus communities. Whether you have witnessed, experienced or have concerns that hazing activity may be occurring, be an upstander and speak out about what you noticed.
Call 911 immediately if someone is injured, involved in illegal activity or in danger of life-threatening harm.
Contact your campus fraternity/sorority life office, student conduct or campus security to report hazing involving an organization, sports team, student group or individual in your local community.
The Anti-Hazing Hotline provides an anonymous telephone line for anyone to report a suspected or recent hazing incident to 888-NOT-HAZE (888-668-4293).
To report hazing within Alpha Chi Omega, please contact Alpha Chi Omega headquarters at 317-579-5050 or email us.
NATIONAL HAZING PREVENTION WEEK (NHPW) 2022
Alpha Chi Omega recognizes National Hazing Prevention Week (NHPW), September 19-23, 2022, which asks campuses, schools, organizations and individuals to come together and talk about hazing in their communities, raise awareness about the problem of hazing, educate others and promote the prevention of hazing. Alpha Chi Omega is a continued sponsor of HazingPrevention.org.
Below are ways you can be engaged during NHPW this year. We will have prizes and opportunities to showcase your chapter's commitment to hazing prevention on a national level!
NHPW 2022 SOCIAL MEDIA TOOLKIT
Use your voice and network to spread the word about hazing prevention all week long! Alpha Chi Omega has created branded assets for this year's social media located in our NHPW 2022 Google Drive. Share and post these graphics on your own personal or chapter accounts to help us raise hazing prevention awareness nationwide. Learn more on how to use these tools with the NHPW Social Media Toolkit instructions.
#RSWDONTHAZE SOCIAL MEDIA CONTEST
Show your support for hazing prevention by sharing your chapter's commitment to ending hazing. Post on Facebook, Instagram or Twitter and tag Alpha Chi Omega using #RSWDontHaze for the chance to win an Alpha Chi Omega flag and be featured on @AlphaChiOmegaHQ. From tabling to making a chapter banner, be creative in the ways you display your hazing prevention commitment.






USE THE HAZING PREVENTION POSTER AND CONVERSATION STARTER
Have your chapter's VP risk management facilitate a discussion with your chapter using the educational posters and conversation starters for hazing prevention developed by the Harm Reduction Alliance supported by Alpha Chi Omega, Zeta Tau Alpha, Pi Kappa Phi and Sigma Nu. This year's theme focuses on hazing state laws and how hazing activity is illegal.
ATTEND A HAZINGPREVENTION.ORG WEBINAR
HazingPrevention.org will feature five days of conversations about hazing prevention online. Their theme for NHPW 2022 is STRONGER TOGETHER and focuses on the important issue of mental health as it relates to hazing and prevention. Register to attend a webinar individually or as a chapter during NHPW!
TAKE THE HAZING PREVENTION PLEDGE
Make a pledge to prevent hazing before it occurs, stop hazing when you see it happening, report it when you know it has transpired and help empower others to do the same.
LOOKING FOR MORE NHPW IDEAS?
Check out content from our past #RSWDontHaze campaigns, including our social media contest winning graphics, banners and past blog post for more ideas!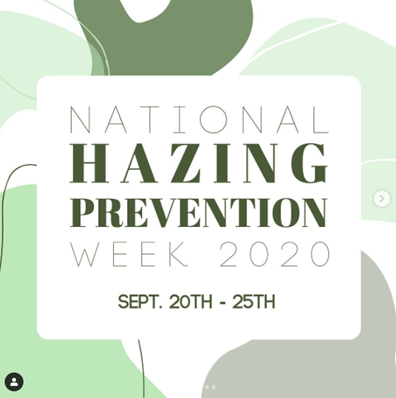 Kappa Nu (Carnegie Mellon University)
2021 #RSWDontHaze
Social Media Contest Winner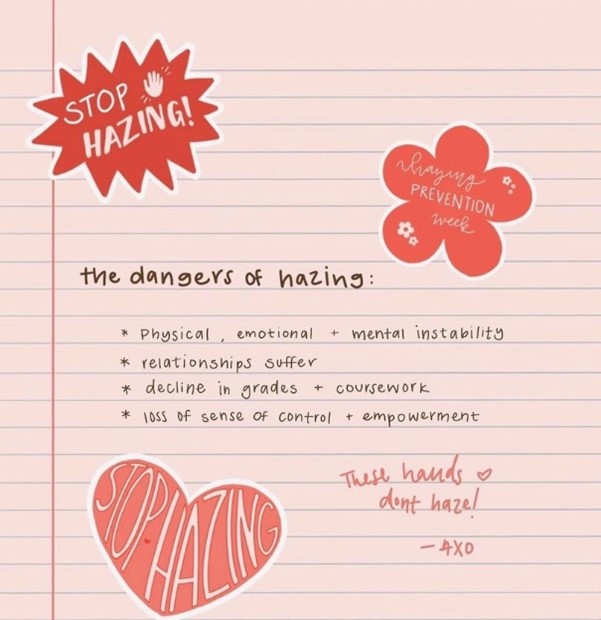 Beta Lambda (University of Arizona)
2020 #RSWDontHaze
Social Media Contest Winner
Safe Sisterhood
---
September 23, 2021
BY SKYLAR MCAULIFFE AND MADISON WILLIAMSON (KAPPA NU, CARNEGIE MELLON UNIVERSITY)
When you walk in the doors of the Kappa Nu chapter at Carnegie Mellon University, you are immediately welcomed into a loving and safe environment.