By:

SOFIA MATOS (ZETA THETA, BROWN UNIVERSITY)
and
JEN WALLACH
(IOTA CHI, MIDDLE TENNESSEE STATE UNIVERSITY)
, DIRECTOR OF EDUCATION AND LEADERSHIP INITIATIVES
Each February, Alpha Chi Omega honors our Founders' heritage as musicians and our first philanthropic project, the MacDowell artists' residency program in New Hampshire, through MacDowell Month. During MacDowell Month, our members are encouraged to be patrons of the arts and attend exhibitions, concerts and other events.
This year, we got the opportunity to catch up with one of our sisters, Sofia Matos (Zeta Theta, Brown University), who recently directed the play Hair, and she shared with us more about her directorial experience and how her passion for the arts and Alpha Chi Omega have led her to where she is today. In her Director's Note, Sofia writes: "Hair is an unconventional show with unconventional themes, but all of that unconventionality is exactly why I love it so much."
Here is what Sofia had to say about her recent directorial experience: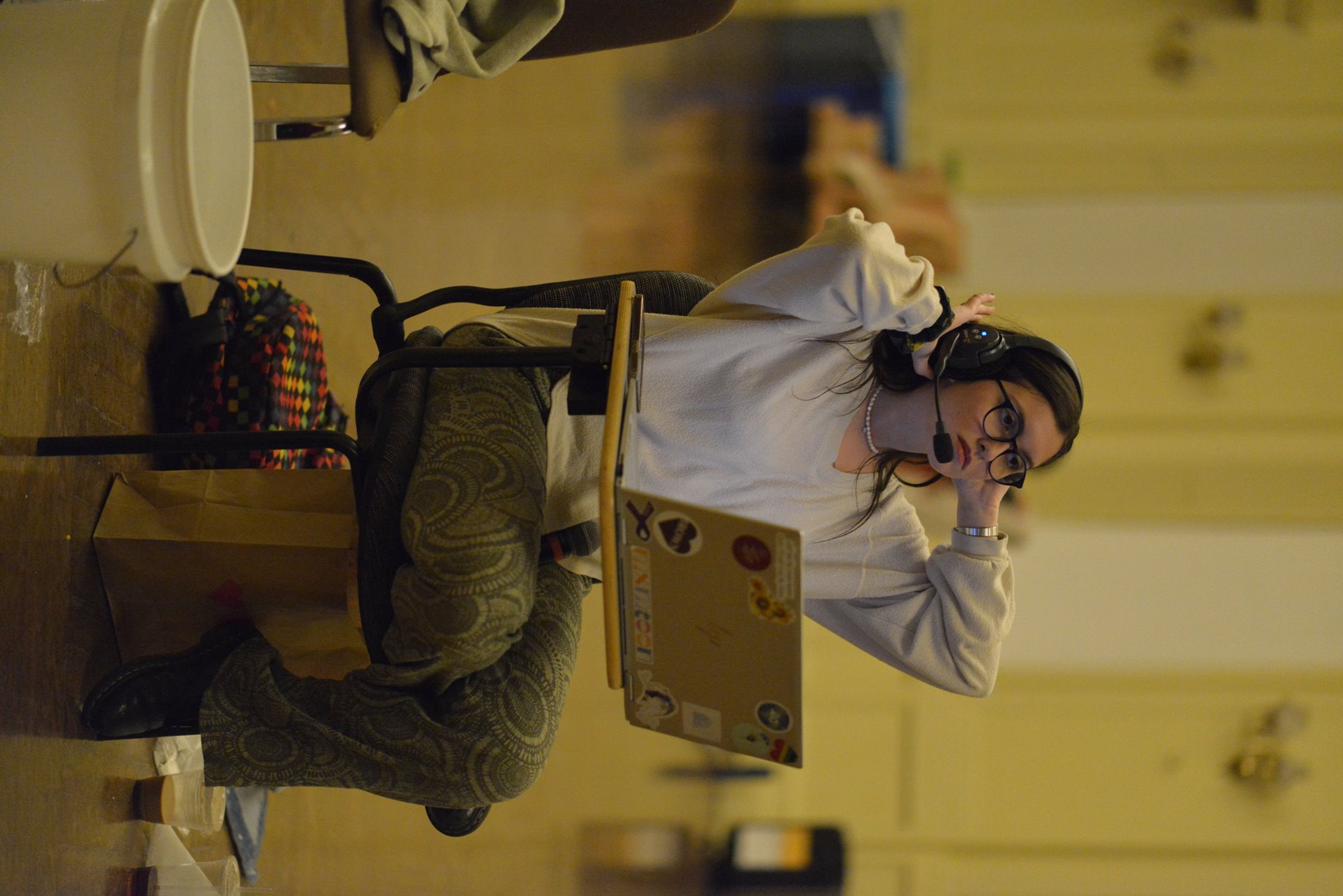 Sofia Matos; photo at the top of the article is the cast of Hair, with Sofia working as the director in the front row, fifth from left.
The arts have been a major part of my life since I was very young; I've been studying instrumental music on the oboe for just about half of my life, and I've been involved in theater since middle school. I've always loved performing, from dance classes as a kid to my first play in middle school to now, as a junior at Brown University still auditioning semester after semester. However, as much as I love being on the stage, it was the creative, behind-the-scenes element of theater that really began to pique my interest later in life. I had the opportunity to stage manage a few productions during my time in high school, which taught me a lot about what goes into making a show, but I knew I wanted to do more, strive for something bigger and better.
At the end of my sophomore year of college, one of my Alpha Chi sisters mentioned to me that one of the theater groups on campus was looking for directorial pitches for their fall production and that I should submit an application; I had never strongly considered directing until that moment, and I was apprehensive at first, but nevertheless I submitted my pitch for a production of Hair, and it was selected! What started as a pipe dream idea quickly blossomed into a 6-month process of bringing my visions to life. The end result was even more spectacular than I could've ever hoped for, and I couldn't have done it without the support of my sisters.
My production of Hair centered around the idea of a found community, of a group of people with different backgrounds and lived experiences coming together in search of common ground and a shared purpose; these are the very same reasons that I joined Alpha Chi Omega and why I stay to this day. The performing arts have given me the tools of self-expression and an outlet to create and develop the ideas in my head, but it is my Alpha Chi Omega sisters who have supported me in my artistic endeavors, who make it possible to keep going day after day, and I am forever grateful for them.