By
Kene Orakwue


(Delta Mu, University of Massachusetts)

One of the many programs, events and experiences supported by the Foundation's Real. Strong. Women.® Fund, Leadership Academy is Alpha Chi Omega's premier training for chapter presidents and executive board officers. Each year, two former chapter presidents and attendees serve as Leadership Academy interns, responsible for assisting with logistics and sharing their experience. An intern in 2020, Kene explains the impact of programming like Leadership Academy on her life. Please consider a gift during Star Challenge to ensure these experiences are available for future generations of real, strong women.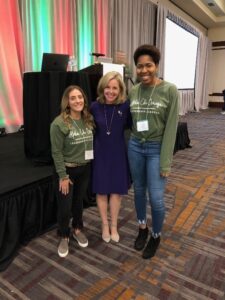 Leadership Academy showed me all the things Alpha Chi Omega is. As a past president, I had spent the year worrying over what now seem like small problems, but being an intern allowed me the opportunity to see beyond just my chapter. I witnessed people from many organizations gather as volunteers to benefit the advancement of collegians' leadership skills and personal development. I saw the countless hours that staff pour into programming, and I met many staff of the Foundation who fundraise for these opportunities. That weekend, I realized Alpha Chi Omega is more than chapter meetings, sisterhood and campus philanthropy events. I was able to witness a lot of the behind-the-scene organization that goes into the experiences many of us collegians cherish and the work that goes into upholding this organization. I was astonished the whole time.
My favorite part of the weekend was by far any moments that allowed me to share Ritual and feel the warmth of my sisters. Leading the Formal Opening Ceremony was the most nerve-wracking, adrenaline-producing yet rewarding experience. Words that I knew I could recite in my sleep, I was suddenly scared I was going to trip over. When I looked out at the 600+ people, I realized they were not just people but my sisters, and my nerves were gone. My sisters are a huge part of the reason why I have grown in my public speaking abilities, leadership and confidence. I had no reason to be nervous because I was sharing Ritual with my sisters. Looking out above that podium, I saw how far Alpha Chi Omega and its values span.
...my experience allowed me to reflect on my time as a sister and to contextualize my part in a bigger organization. I was a role model for incoming executive members.
I also enjoyed the smaller moments too. I had way too many laughs behind the registration desk, early morning Starbucks runs and being able to reconnect with the other collegiate intern, Victoria Thalassinos (Gamma Pi, University of Tampa), who was in my small group the year before! Additionally, I spent a good part of the weekend fangirling over headquarters staff and can proudly say that I met almost everyone I have ever emailed. I was also too nervous to say hi to National President Angela Costley Harris or CEO Katie Gaffin in 2019, but I made sure to say hi this year!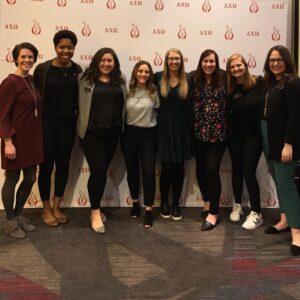 Most importantly, my experience allowed me to reflect on my time as a sister and to contextualize my part in a bigger organization. I was a role model for incoming executive members. I had the opportunity to share words of advice. It allowed me to reflect on my time as president – what I wish I knew, what worked best for me and how had I grown. One of the many reasons I wanted to be an intern was to be able to give others the confidence boost that I got last year – and I did exactly that.
Leadership Academy gave me an insight into the bigger meaning of being a sister. It reminded me of the strength and diversity of our sisterhood. It challenged me to be a leader and role model in new ways. It allowed me to see parts of an organization that I had not seen before – and for that opportunity, I will always be grateful. My experience as an intern reminded me of the real, strong woman I am. I know now that I can get up on any stage and that I will always have the warmth of my sisters behind me.
Help create opportunities like Kene's with a gift to the Real. Strong. Women. Fund. today. Your support will help to sustain priority programs like Leadership Academy so Alpha Chi Omega can continue to develop leaders and real, strong women.