IN HONOR OF OUR SEVEN FOUNDERS, WE GET TO KNOW ONE ALPHA CHI OMEGA THROUGH SEVEN QUESTIONS.
137 years ago, seven visionary women transformed and linked the lives of more than 300,000 others across the country. Members of Alpha Chi Omega, while individual and unique, share one common bond which has made an uncommon impact on all of them.
To celebrate the uncommon impacts Alpha Chi Omega has had on each member, we spoke with Amy Kirchner (Theta Sigma, University of North Florida) who says, "As an introvert with social anxiety, Alpha Chi gave me numerous opportunities to grow and challenge myself."
1. How has Alpha Chi Omega had an uncommon impact on you?
I went away to college, and my roommate who I was matched with ended up going Alpha Chi Omega freshmen year. Sororities really weren't something I was initially interested in, but through her I was able to meet some of the women, and I thought, "Huh, I really like them, maybe I was just being judgey." My sophomore year I joined, but I didn't tell anyone in my family. I pushed myself out of my comfort zone because I didn't know many people. After having the support of my sisters, my confidence grew, and I felt like I could start running for positions. Alpha Chi Omega gave me the opportunity to be confident and grow my leadership skills in ways I never could have imagined.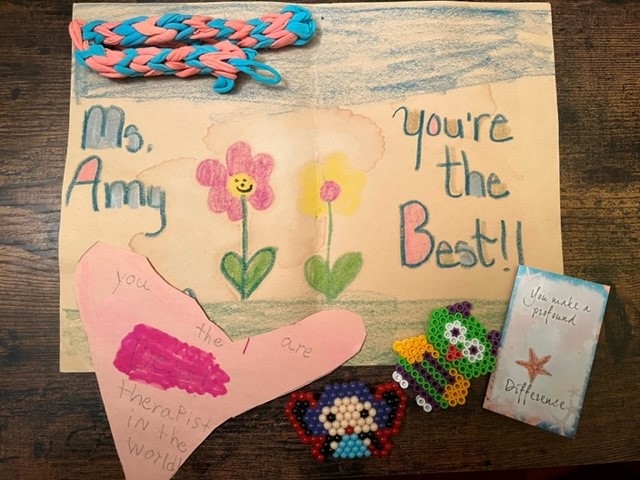 A collection of the small gifts and thank you's students have given Amy over the years working in her role. 2. What do you do in your professional life?
I have been a mental health counselor for 13 years. I currently work with a school district, and I work on the school counselor level if kids need more support or have more serious issues. Most of my caseload is kids with emotional behavior disabilities who may have to be removed from the classroom due to their behavior, so I work in group settings and one-on-one with them. I teach them ways to cope, solve and use strategies to help them get back into what we call the "general education setting."
3. When was a time you felt empowered by your sisters?
Recently I was working with a student who has social anxiety and stage fright, which really made me think about my own experience. I went on stage in front of 350 new members, and I don't remember how, but I had no nerves. I didn't think twice; I just went there and gave my speech. It was because I was surrounded by my sisters and members from other sororities that I felt comfortable to go up there. After I remember thinking, "Did that just happen? Did I just go on stage and not feel nervous?" There is no way I would have been able to do that without my years in Alpha Chi.
4. What is the greatest life lesson you have learned?
Learning how to work with different personalities, especially in my work setting where so many people are involved. Understanding different personality types and perspectives has been helpful. I learned this after working on the CRS board when sisters would come in with some serious issues and were struggling to deal with them; we always communicated that it's a safe place and we were there to support them. It really helped me learn and work with so many different people and develop empathy.
5. What does being a real, strong woman mean to you?
It's someone who is self-aware. They speak up for themselves but also speak up for those who may not have a voice at the time. They will stand up for what they believe in and even fight for people who don't have it in them to fight.
6. What advice would you give to a collegiate Alpha Chi member?
Find what you're passionate about. Stay true to yourself through it all and follow your gut. Make sure you are working toward the goal that you want, not what others may expect of you.
7. How have you seen the common bond of Alpha Chi Omega in your life?
I was waiting tables while in college, and I greeted an older couple at one of my tables. The woman was putting on her glasses as she asked, "What does your necklace say?" I grabbed it not remembering what I was wearing and realized it was my lavaliere. I replied, "Oh it's from my sorority." She asked what sorority I was in, and when I said Alpha Chi, she gasped and exclaimed, "I'm an Alpha Chi!" Her name was Beverly Bertwell (Gamma Zeta, Kansas State University), and she quickly became one of my regulars. We built a friendship through our chats over the next few years. She never had children and I had lost both of my grandmothers, so she became "Granny B" to me. I had to quit waiting tables when I started graduate school, but Granny B and I kept in touch, having dinners to catch up, and she even attended my graduation. I wouldn't have had this special friendship if it weren't for Alpha Chi, and I'm forever grateful!
The Alpha Chi Omega Foundation's Common Bond. Uncommon Impact. campaign empowers real, strong women and seeks to sustain our vision to shape the future through powerful, transformative and everlasting connections. You can learn more about the campaign and how your support can make a lasting impact here.