Sisters serving on each of our Alpha Chi Omega Enterprise boards share their experience. We hope the insight from these women encourages you to recommend a sister (or yourself!) for service on one of the boards.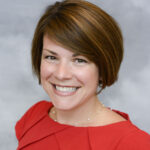 Mikelle Holt Brady (Alpha, DePauw University) – National Council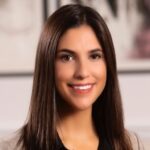 Maree Magliocchetti (Alpha Tau, University of New Hampshire) – Foundation Board of Trustees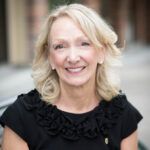 Nancy Spanich Waiss (Omega, Washington State University) – National Housing Corporation (NHC) Board of Directors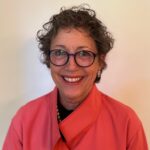 Kristin Koppen (Delta Chi, William Woods University) – Pearl Stone Partners (PSP) Board of Managers
Recommendations are being accepted now for terms beginning August 1, 2022; read position descriptions and find out how to submit a recommendation on the Volunteer Opportunities page!
Why did you want to serve on your respective board?
Mikelle (National Council): I have admired the women who served on our National Council since I first attended convention in 1998. As I worked more and more closely with the national organization, I saw that I, too, could use my skills to help benefit the strategic guidance of Alpha Chi Omega. I love the idea of being able to think big and to set big-picture strategy for our sisterhood. I've gained so much from Alpha Chi Omega that it's just one way that I can give back.
Maree (Foundation): I have been a beneficiary of the Foundation since I joined Alpha Chi Omega. Opportunities from the scholarship program to Leadership Academy and consultant training (just to name a few) have all helped me develop into the woman and professional I am today. I think it is my duty to give back so that others can have the same positive experience.
Nancy (NHC): I was so excited and impressed with the work the NHC was doing to provide safe and competitive housing for our collegiate members, and my professional experience aligned nicely with the position description for board service.
Kristin (PSP): The opportunity to serve on a recently launched board was very appealing. Also, for me, the person who asked me to consider joining the board is someone that I highly regard and respect!
What skills from your personal, professional or prior board service experiences have you used so far in your Alpha Chi Omega board service?
Mikelle (National Council): I have used communication and relationship-building skills, the ability to read financial statements, analytical experience and strategic thinking. I think that my experiences from running a family business, serving on a church board and volunteering with other community organizations have helped me best contribute to our work as a National Council.
Maree (Foundation): My financial background has served me well in my efforts to add value to my board service. The ability to analyze and communicate financial consequences, themes, budgeting, investment management, etc. have all proven useful. Similarly, I would say my experience as a member of the Board of Directors of Students Against Destructive Decisions helped me prepare for the experience on the BOT.
Nancy (NHC): I worked in the financial services industry and at an international design firm so the blend of financial skills, project/facility management, and familiarity with design and construction have helped me understand the challenges of housing construction and renovation. I also served 10 years on a nonprofit board in a variety of roles, which helps in understanding board governance and responsibilities.
What has been a favorite moment or memory from your board service?
Mikelle (National Council): All of my favorite memories have been about the people and relationships that I have gained from this experience. I'll never forget when I had the opportunity to give Barbara Boardman (Nu, University of Colorado Boulder) her 75-year pin in Denver at the Nu Nu alumnae chapter centennial celebration. It was such an honor! I also have great memories of the National Council spending nights back at our hotel after in-person board meetings, sitting in our sweats and pajamas, catching up on life and laughing together at funny stories.
Nancy (NHC): I love watching projects come to completion and the excitement of the members/alumnae as they experience their new or renovated chapter house!
Kristin (PSP): Despite COVID-19, we were able to serve as a link (almost a lifeline) to our chapters in a very substantive and valuable way. I have enjoyed our board and also being a part of the larger Enterprise through meetings and retreats.
What is something you've learned or a skill you've developed from your service?
Mikelle (National Council): I have learned so much from the inspiring women that I have served with. But the key takeaway that I will forever lean on and cherish is the importance of communicating and supporting the personal decision I make before a board vote is taken. One of our National Council members modeled the way and taught me early on that it's OK to disagree with the group, but that you owe it to your colleagues to explain that opinion, not leaving anyone surprised or questioning.
Maree (Foundation): One of the greatest benefits of serving on the Board of Trustees has been the ability to interact and learn from the incredibly impressive members of both the BOT and our other national boards. I am in awe of the talent, intellect and perspective that these sisters bring to the table, and I truly learn something from each of them every time we have the honor of meeting.
Kristin (PSP): A better understanding of the entire Enterprise – Alpha Chi Omega is an amazing organization and very leading edge. Learning new things is also a way to be engaged (I am not a finance person, but our staff has helped educate and train me!).
How does the board you serve on make a difference for our members?
Nancy (NHC): Providing safe and competitive facilities on campus is so important for our members – chapter houses, as a place to gather, are at the heart of a college experience, a home away from home.
Kristin (PSP): Pearl Stone Partners is a safety net for our organization including our chapters and the entire Fraternity. We provide a unique set of services that no other sorority or fraternity has established. Alpha Chi Omega is truly forward-thinking!
What is something many of our members don't know about board service?
Mikelle (National Council): Our boards don't make the day-to-day decisions or plan the details of Alpha Chi Omega events. The boards set the high-level direction and strategy, and the professional staff members are responsible for execution. We're fortunate to have an amazing, dedicated professional staff who make Alpha Chi Omega shine!
Kristin (PSP): For me, it is about giving back and supporting the Fraternity to ensure this experience reaches our women. I have been fortunate enough to serve on the BOT, NPC and now PSP – it is a joy and honor to do so!
What advice would you give to someone interested in board service?
Mikelle (National Council): Gain as much strategic experience as you can, through work or as a volunteer. Participate in local board service outside of Alpha Chi Omega to learn more about how boards operate. Talk to other Alpha Chi Omega board members about their experience. Find a mentor with board experience. Seek open, honest feedback from someone who knows your work style well. Receive that feedback. Put your name in the hat, even if you don't think you're quite ready or qualified—sometimes it takes a few "no's" before you get to "yes!"
Maree (Foundation): Learn more! I think serving on a board has not only helped the organizations I want to give back to, but I have grown as a person and professional. Like with anything, timing is key; I think the more you learn, the better you will understand when the right time is for you as a volunteer and our beloved organization.
Why is it important for members to participate in the board recommendation process?
Mikelle (National Council): Our board recommendation process DEPENDS on participation from our members. We need to know about our talented members who have strategic-thinking skills to offer to the organization. I hope that everyone who feels that they are qualified and interested in serving will self-nominate. There is so much strength in that!
Maree (Foundation): I think so often (myself included) it takes another sister to help us understand what we are capable of. The board recommendation process helps us know who of our sisters would make a good member of one of our boards. I think so many of us, even if we are capable, interested and willing, have a hard time putting our own hats in the ring.
Nancy (NHC): Members are helping to build strong, talented and diverse boards. This is critical to continuing the mission of Alpha Chi Omega and serving our members.
Inspired to serve? Visit the Become a Volunteer page to read position descriptions and learn how to recommend a sister or yourself!