IN HONOR OF OUR SEVEN FOUNDERS, WE GET TO KNOW ONE ALPHA CHI OMEGA THROUGH SEVEN QUESTIONS.
137 years ago, seven visionary women transformed and linked the lives of more than 300,000 others across the country. Members of Alpha Chi Omega, while individual and unique, share one common bond which has made an uncommon impact on all of them.
Victoria Keener (Alpha Eta, University of Mount Union) shares with us how her sisters and the common bond they share have helped shape her into the woman she is today. She says, "They helped me go from a quiet girl who never talked to a woman who can command a room, and they actually helped me get my job of running a summer camp this summer."
1. Tell us about yourself!
I am site supervisor/director at Camp Black Rock in Upper Providence, PA. My role in Alpha Chi is vice president new member education.
2. Why did you choose Alpha Chi Omega?
I never thought I would join a sorority. My whole life I was a very dedicated athlete who never thought on anything else but my sport. When I came to college, I wanted to push myself out of my comfort zone. I was already living 6 hours away, and I decided to "do the sorority thing" and ended up meeting the girls of Alpha Chi Omega and immediately fell in love. Growing up, instead of getting birthday presents I would collect donations for the local domestic violence shelter near me, so once I heard about Alpha Chi's philanthropy, I was sold. I knew these girls would help me grow as an individual and in service, which I hold so very close to my heart.
3. Can you recall a time when Alpha Chi Omega helped grow your confidence?
This past recruitment I was chosen to give a speech during our preference ceremony about how much Alpha Chi has done for me. In this speech, I opened up and went completely vulnerable about the past two years of my life, which included two hip surgeries and almost becoming paralyzed from the waist down. If it was not for the love and true support of my sisters, I would have never been able to be vulnerable. Vulnerability is something that is often forgotten that is a part of confidence. If you cannot be truly vulnerable with others, even complete strangers, you are not truly confident. My sisters have given me the ability to become in tune with my emotions, which was something I was never able to do until I met them.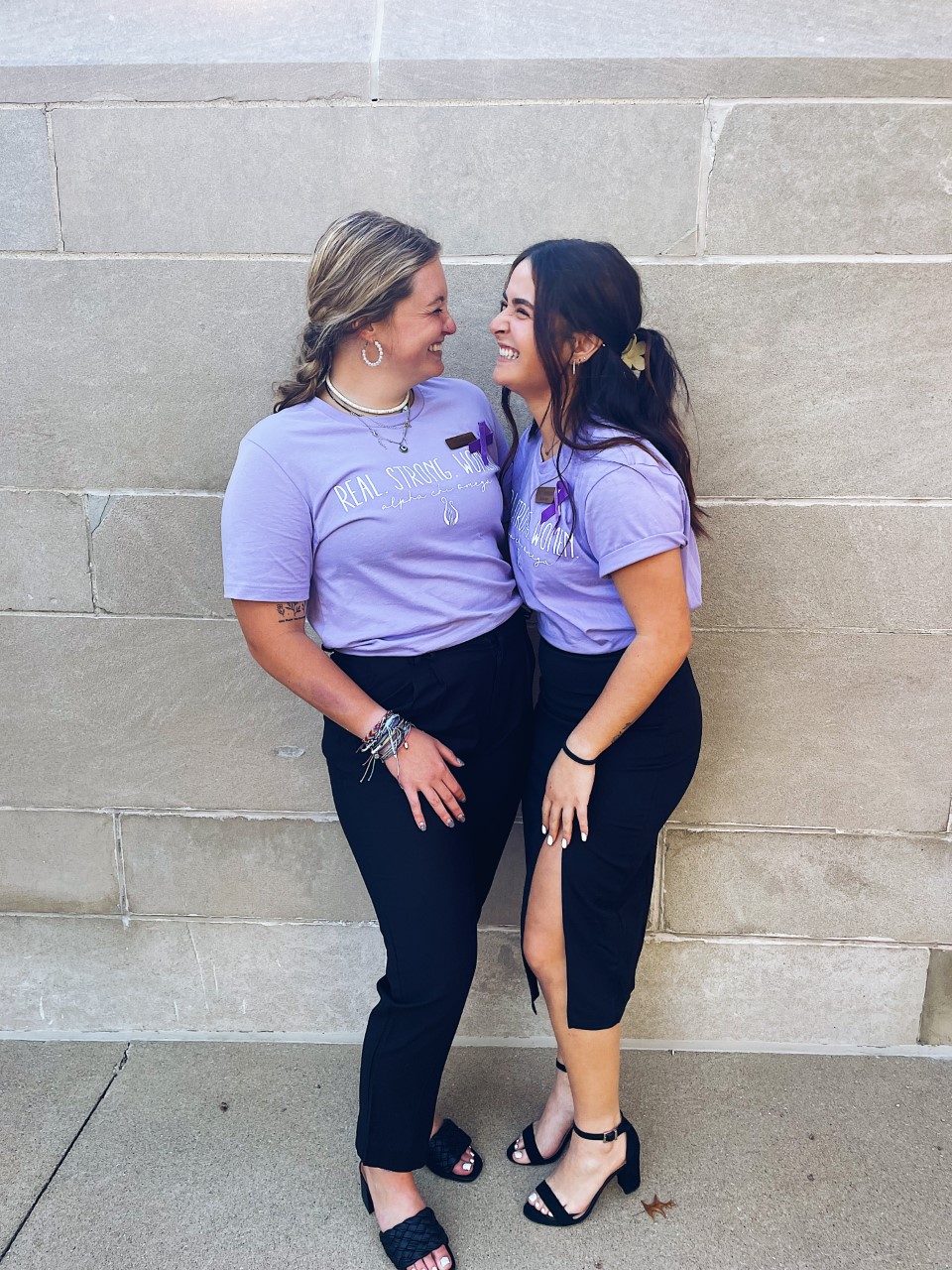 Victoria on the left4. How has the common bond of Alpha Chi Omega left an uncommon impact on you?
Alpha Chi has made me into the person I always dreamed of becoming. I was never one to speak up for myself or to speak up in general, but my sisters in the Alpha Eta chapter have given me a confidence that I always wanted and have given me the ability to talk to anyone and everyone. The girl who was once very shy and wouldn't talk to anyone will now go into a room full of people and walk up to anyone.
5. What is one time you felt empowered?
Every single time I see my sisters I feel empowered; being around these women day in and day out is a feeling truly unlike any other. These women have made living 6 hours away feel like nothing. They always remind me of all the work I do for the sorority and campus and always make sure I know how much of a difference I truly make. On my campus, our Panhellenic community recognizes one woman each week from a sorority that has made a difference on this campus, and I was chosen to be the first one of the semester. Seeing a room full of women that I truly admire vote for me to be the Sorority Woman of the Week is such a crazy feeling. Seeing all your hard work pay off truly is an empowering feeling.
6. What does being a real, strong woman mean to you?
Being a real, strong women means to be yourself in even the hardest of times when people are tearing you down for whatever it might be. If you stay true to yourself, that is what makes you real; to stand your ground against others is what makes you strong; and what makes you a woman is a combination of it all.

"IF YOU STAY TRUE TO YOURSELF, THAT IS WHAT MAKES YOU REAL; TO STAND YOUR GROUND AGAINST OTHERS IS WHAT MAKES YOU STRONG; AND WHAT MAKES YOU A WOMAN IS A COMBINATION OF IT ALL."

7. What advice would you give a sister?
It is OK to be vulnerable and lean on others when you need someone to be there. These amazing women are your sisters; they may not be blood-related, but there is a different type of connection within a sorority. This connection is one based on morals, love and justice. A connection like that is an unbreakable bond. It has given me people who have made me truly feel loved for the very first time in my life. Let yourself open up to these people; in no way will it be easy, but it will be more than worth it. It will help you through hardships and make them "easyships."
The Alpha Chi Omega Foundation's Common Bond. Uncommon Impact. campaign empowers real, strong women and seeks to sustain our vision to shape the future through powerful, transformative and everlasting connections. You can learn more about the campaign and how your support can make a lasting impact here.