BY GRACE GARDNER (THETA UPSILON, UNIVERSITY OF SOUTH CAROLINA), ASSISTANT DIRECTOR OF EDUCATION AND LEADERSHIP INITIATIVES
For 30 years, Alpha Chi Omega has been committed to domestic violence awareness as our national philanthropy. In that time, our organization has grown and changed, reflective of the growth and change of the world around us. We are more connected than ever, which, when it comes to our philanthropic mission, has given us more information about the scope of domestic violence worldwide. Both the United Nations (UN) and the World Health Organization (WHO) have identified intimate partner violence and violence against women as critical public health issues, with a study of 161 countries finding that nearly one in three women have been subjected to physical or sexual violence by an intimate partner. In the United States alone, more than 10 million people are abused by intimate partners each year.
These statistics demonstrate the global scale of domestic violence, recognizing the impact felt at the local level: by individual survivors, by their loved ones and in their communities. This is why Alpha Chi Omega encourages our chapters to focus their philanthropic and service efforts in support of the local domestic violence shelters and organizations that have a direct and immediate connection to survivors and victims of domestic violence. We hope that hearing stories of our chapters and the organizations they support may inspire you to support a local organization in your own community this October.
IOTA LAMBDA AND THE WOMEN'S CENTER OF TARRANT COUNTY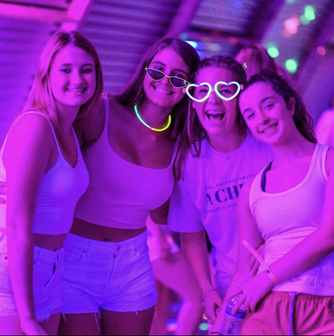 The Iota Lambda (Texas Christian University) chapter of Alpha Chi Omega began its partnership with The Women's Center of Tarrant County in 1999, just seven years after the adoption of domestic violence awareness as our national philanthropy. In their 23 years of partnership, the sisters of Iota Lambda have supported and learned from The Women's Center as they have raised funds, completed direct service and supported TWC events like its annual Victory Over Violence 5K.
Just a short drive from TCU's campus, The Women's Center offers rape crisis and victim services, violence prevention and education programs, employment assistance and general counseling programs. It has an enormous impact in the lives of Tarrant County survivors, serving 113,290 women, men and children in 2020. Of those served, TWC reports that "90% of clients receiving therapy achieved at least 75% of their goals to heal from the trauma of violence and/or improve their emotional and behavioral health." Learn more from TWC clients on The Women's Center's blog.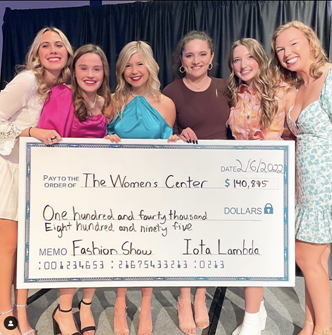 Lane Rippey, a junior psychology major and Iota Lambda's vice president philanthropy, reflected on the numerous ways her Iota Lambda sisters have personally benefitted from their partnership with The Women's Center as she's watched them fall in love with serving others and integrating it into their everyday lives. Lane and Iota Lambda, of course, also have much to be proud of. The chapter hosts two large events each year: an ever-evolving fall event and the annual Real Chic Women fashion show, which raises more than $100,000 for TWC each spring. Since 2007, the chapter has raised nearly $860,000 for The Women's Center, and members look forward to hosting their first-ever Walk a Mile event this October.
"One of the platforms I ran on for VP philanthropy and something my late grandmother, who dedicated her life to philanthropy, taught me is that giving back to the community that gives so much to you makes an immeasurable difference," Lane shared. She knows that a chapter's philanthropic efforts can be big or small, but when you are supporting local organizations, the positive impact for survivors and their loved ones is huge.