By Emily Martin Floyd (Theta Upsilon, University of South Carolina)
It wasn't until my sophomore year of college that I really took the notion of joining a sorority at the University of South Carolina seriously. I had gone through a few rounds my freshman year but dropped out shortly after; the process was overwhelming, I was homesick and my then-boyfriend convinced me that I didn't need to join. I had all the friends I needed, just a short text or phone call away.
When I signed up for recruitment the second time, I had a different mindset. I already had a great group of friends from freshman year, but I wanted to do something more. I remember sitting in the Alpha Chi Omega house watching the philanthropy video, and there was something pulling me toward them. I couldn't put my finger on it, so I stored it away as just another feeling of excitement and nerves. Fast forward to Bid Day and running down the Horseshoe with my roommate to join Alpha Chi Omega!
Once I joined, I saw a notice in the house and online that Sistercare, the local domestic violence shelter in Columbia, was looking for a volunteer to help answer phones and file paperwork on Friday afternoons. I reread the posting a few times and thought about contacting the coordinator to ask about the position. I had a car on campus, didn't have Friday classes and really had nothing else to do with my time, so I thought it could be a fit.
While the position was simple, I learned so much in such a short amount of time. In South Carolina, one in four women and one in six men are victims of domestic violence. I learned that there was so much more going on in the world than gamedays or Friday night plans.
For the rest of the year, I volunteered at Sistercare every Friday. I stocked supplies for the shelters and learned about the cycle of abuse. I wrote thank you cards to donors and learned crisis techniques to help those who may disclose to me in the future. I volunteered at local fairs and learned how to be a supporter of survivors of domestic violence.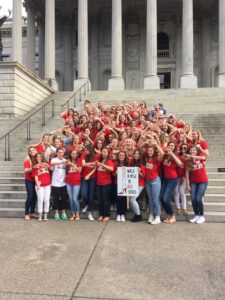 In volunteering, I felt the same pull that I had felt during recruitment. I was learning all these things about domestic violence that I didn't realize I had been living in before volunteering. I was learning that domestic violence isn't always physical: it's emotional, financial and mental. I remembered times in my life when a former boyfriend had blamed me for wearing the wrong clothes, hanging out with the wrong people or doing the wrong things. I realized that it wasn't my fault when he got mad that I hung out with a male friend or wore a certain outfit to school. I realized I shouldn't have to be nervous about saying the wrong thing or spend hours apologizing for my attitude. I also realized that there was so much more that I could do than just answer phones on Friday afternoons. I could help other students and community members realize that they deserve respect, care and love in their relationships too.
After my volunteer position ended, I scoured the internet for similar opportunities. I found an internship with Sexual Trauma Services of the Midlands (STSM), a local rape crisis center, and poured my time into helping market their services and raise funds for their complimentary crisis counseling to survivors. My next goal was to connect my work back to Alpha Chi Omega, but I wasn't sure I could do it. I didn't have a leadership position in the sorority, and I was almost on academic probation. I didn't even know all the women in my member class! But I knew if I got a few sisters involved, the information would spread throughout the sorority.
I wasn't the president, vice president philanthropy or even someone my entire class knew. At the end of the day, I wanted to be one resource someone could come to if they needed help. I wanted to be one shoulder to lean on when they needed to make a call to seek services.
I joined the philanthropy committee in my chapter and during October's Domestic Violence Awareness Month, we did a "Love Is" social media campaign and shared what love meant to each of us. We passed out lollipops to students with a pledge that love shouldn't hurt and encouraged other students – not just fraternity and sorority members – to seek help and support if they were in an unsafe situation. We created "Love Shouldn't Hurt" bracelets that I still have on my keys to this day. My father still proudly wears his purple band, six years after I graduated.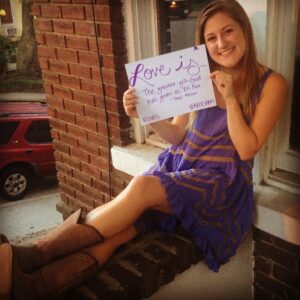 My goal in all of this wasn't to get recognition in my chapter. I wasn't the president, vice president philanthropy or even someone my entire class knew. At the end of the day, I wanted to be one resource someone could come to if they needed help. I wanted to be one shoulder to lean on when they needed to make a call to seek services. I wanted to be someone my friends followed on Instagram that shared facts and highlights that others could see and recognize if they weren't in a healthy relationship, similar to how I felt when I first started volunteering.
I say all of this to remind you that you don't need to be in any leadership position or be the girl with the most Instagram followers to make a difference. You don't need to have a 4.0 GPA or the perfect resume to get involved to collect supplies for shelters or backpacks for kids. You can start with a one-day position, answering phones and writing thank you notes, and it may turn into nine years and counting of passionate volunteer work in your community.
---
Emily Martin Floyd is a communications and events manager for an association management company in Alexandria, VA. Prior to event planning, Emily worked as a marketing coordinator for a rape crisis center in Columbia, South Carolina. She has volunteered for numerous organizations in the DC area, including the Capital Pride Alliance, Inc, Doorways for Women and Families, and the Beta Rho chapter of Alpha Chi Omega. When not working, Emily enjoys cheering on the South Carolina Gamecocks, hiking with her German shepherd, or binging all things Bravo TV.
Update: Emily joined headquarters staff in March 2022 as the events manager.